Site Design Consultants is headed by a team of engineers who have been practicing the many aspects of land development for over 30 years in New York and Connecticut. The Company's primary activity is site planning and civil engineering for both commercial and residential development.
The work of Site Design Consultants can be seen throughout Westchester and adjoining regions. The scope of projects by Site Design Consultants varies from single-family homes to commercial shopping centers to Town projects. Projects usually begin with site planning recommendations and end with an engineered design needed to secure the necessary permits and approvals for construction.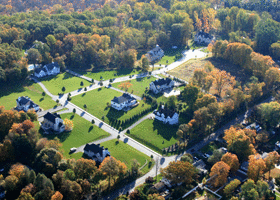 A steady flow of on-going projects has given Site Design Consultants a good working relationship with local and regional Planning Boards, Town Engineers, and Conservation Advisory Panels. The Company works closely with other consultants including architects, environmentalist, structural engineers, traffic engineers, surveyors and geologists.
Site Design Consultants is licensed to practice engineering in the States of New York and Connecticut. Memberships include the National Society of Professional Engineers, New York State Society of Professional Engineers, American Society of Civil Engineers, International Erosion Control Association, Yorktown Chamber of Commerce and the Ridgefield Chamber of Commerce.
---
© Site Design Consultants
251-F Underhill Avenue | Yorktown Heights, NY 10598 | (914) 962-4488