Site Planning
The Important First Step in Residential and Commercial Construction
Site Planning and Engineering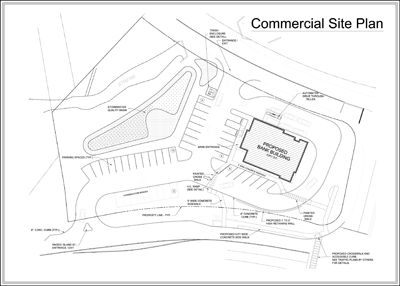 Site Planning represents the critical first step in residential and commercial construction. It is through site planning and practical engineering application that the most efficient use of a parcel of land can be determined. The land developer and his architect rely on the site planner to analyze a property's potential by integrating zoning regulations with physical and environmental considerations. This is an important step before committing money and manpower to obtain approvals and, ultimately, begin development.
Site Design Consultants, located in Yorktown Heights, NY, is one of the few companies in the area specializing in site planning and engineering. Currently, the Company's projects, pending and complete, are predominantly in Westchester, but also include Putnam and Dutchess Counties in New York; extending to Fairfield County in Connecticut. Services include feasibility studies, zoning analyses, preliminary engineering design proposals, and final engineering design and approvals.
Stormwater Management
Many projects require addressing stormwater control aspects and compliance with regulations. These regulations can be Federal, State, Local, and in some instances Reservoir Watershed requirements. We are experienced in preparing Stormwater Management Plans from the most basic to complex projects. We have prepared many designs and plans in accordance with the New York State Department of Environmental Conservation Phase II Regulations, New York City Department of Environmental Protection, and the requirements of local Towns. This includes the design of the stormwater control practices, prevention of erosion, and treatment features.
Feasibility Study
"How can I make the most profitable use of my undeveloped piece of land?" This is the kind of question that underlies a feasibility study. Such a study carefully examines and evaluates the practical alternative uses of land. The engineer not only investigates a site's physical constraints and development potential, but also is marketing viability, including the extent of competitive activity and the potential for profit.
Preliminary Design
"Will the proposed use for my land receive all the required approvals?" A developer has good cause for concern. Securing the necessary approvals to free a parcel for its greatest potential can be a tedious and intricate process. Presenting a preliminary design of the project to key government agencies can often uncover problems and suggest solutions while the proposal is still in conceptual stage. Site Design Consultants has the knowledge, skill and experience to prepare such preliminary designs and submit them to initial approval.
Final Design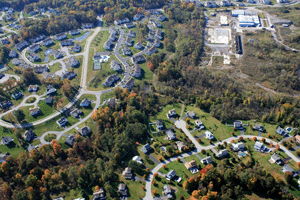 "How do I go about getting all my approvals, and how long does it take?" Each project must be reviewed and then approved by a number of government agencies. The preparation of all final plans are in accordance with the Code of Practice of the New York State Society of Professional Engineers and require the approval by some or all of the following regulators: local Town agencies, local County Department of Health, local State Department of Health , New York City Department of Environmental Protection, United States Environmental Protection Agency, New York State Department of Environmental Conservation, New York State Department of Transportation, State Environmental Quality Review Board, Metro North, Connecticut Department of Transportation, Connecticut Department of Consumer Protection, Association of State Highway and Transportation Officials, New York State Building Codes, Occupational Safety and Hazard Agency are just some of the regulatory bodies whose requirements must be satisfied. The time needed for final design approval can, most frequently, be measured in months; but in some instances, it can take years. Site Design Consultants, with its understanding of design criteria and the approval process, works efficiently to achieve expedient approvals. That's why it is so important to enlist the aid of professionals who by clearly understanding the procedures, can keep the time period for approvals to a minimum. Site Design Consultants prepares the construction drawings and obtains all the approvals needed to begin construction.
Engineering Services
---
© Site Design Consultants
251-F Underhill Avenue | Yorktown Heights, NY 10598 | (914) 962-4488
Return to Top